What is the Average Credit Score in the U.S. (Experian)
The average FICO® Score☉ in the U.S. rose to 711 in 2020, according to Experian data from October. That's an eight-point increase from 2019 and is the most significant spike since 2016 when the average FICO® Score grew by four points from the prior year.
Credit scores have been on the rise for the past decade (the average FICO® Score increased in nine of the past 10 years), but this year's increase stands out—first because the average FICO® Score has typically increased by one or two points each year, and second because consumers have faced significant financial and other challenges this year due to the coronavirus pandemic.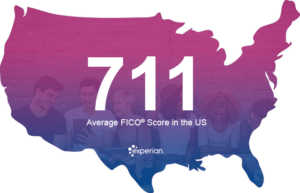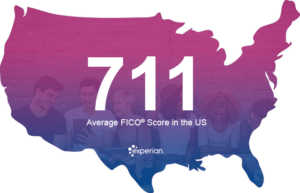 As part of our ongoing look at credit scores[1] in the U.S., Experian analyzed consumer credit and debt data to understand how scores have changed and to identify potential reasons scores are increasing. Read on for our insights and analysis.
Drops in Delinquency, Utilization Likely Driving Score Growth
The standout growth of the average FICO® Score in 2020 can likely be attributed to shrinking debt, decreased credit utilization and a drop in delinquencies (late payments). Since the onset of COVID-19 in January 2020, consumer debt management has trended in a positive direction.