Annual Survey Reveals That Low-Income Consumers Are Most Likely To Seek Credit yet Know the Least about Credit Scores · Consumer Federation of America
Washington, D.C. – The tenth annual credit score survey, released today by the Consumer Federation of America (CFA) and VantageScore Solutions, LLC, shows that low-income households are most likely to apply for credit in the next 12 months.  Yet, the survey also reveals that these households generally know much less about credit scores than households with higher incomes.
The phone survey of 1,001 representative Americans showed that 20 percent of households with incomes below $25,000, but only 13 percent of those with incomes of at least $75,000, intended to apply for credit in the next 12 months.  At the same time, as the table below shows, these low-income consumers are far less likely than the high-income consumers to answer consumer knowledge questions correctly.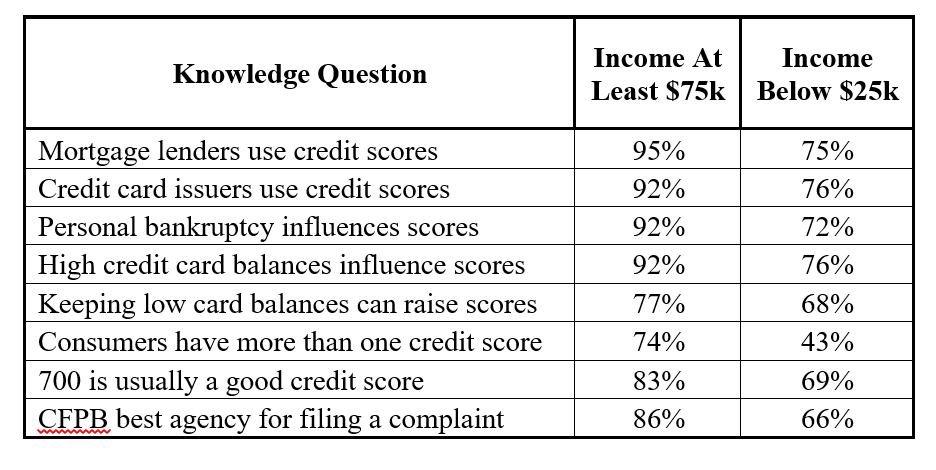 "At least one-quarter of low-income consumers lack the knowledge to help them raise low credit scores," said Stephen Brobeck, a CFA Senior Fellow.  "This lack of awareness could limit their access to credit or subject them to higher costs.  Low income households can least afford to pay higher interest rates and fees associated with low credit scores," he added.
Low-income consumers are more likely than high-income consumers to consider their knowledge of credit scores to be fair or poor – 58 percent vs. 37 percent.  Probably one reason for this perceived lack of knowledge, as well as less actual knowledge, is that low-income consumers are much less likely to have obtained or received any of their credit scores in the past 12 months – 32 percent vs. 59 percent for high-income consumers.
CFA and VantageScore developed and co-sponsor an interactive website, CreditScoreQuiz.org[1], that consumers can use to test their knowledge of credit scores. The website includes a 12-question quiz, available in both English and Spanish (http://www.cuestionarioparaelpuntajedecredito.org/[2]).
"Taking our online credit score quiz provides an easy way for consumers to improve their credit score knowledge," said Barrett Burns, President and CEO of VantageScore Solutions.  Some 250,000 individuals have taken this quiz.